A mix of nature, history and culture riding one of the made in Italy symbols.
Price from €50 per couple!
Miles along the lake, with a landscape made of mountain peaks, prosperous hills, villages and historical villas, that offer unique itineraries each time. Enchanting routes by Vespa which become unforgettable memories.
The
suggested by Noleggiare
1 - "Forra road by Vespa, the 8th wonder of the world".
The Forra road is a hidden treasure nestled in the mountains, created by the Brasa stream. 
A scenery made of numerous short galleries and turns, facing the crystalline water will take your breath away with an unique light show. 
A one of a kind panorama, 6 km long, that connects Pieve di Tremosine with Tremosine, one of the most wonderful villages in Italy.
The itinerary starts in Riva del Garda on Gardesana road, along the lake and goes through fascinating places like Limone del Garda. From here you can reach the so called "la Porto/Pieve"  in strada provinciale 38, which leads towards the geen and luxuriant plateaus of Tremosine across the gorge of the Brasa stream.
A short path, to enjoy quietly in each of its corners. To complete the trip, we suggest you to enjoy your meal en plain air, in order to savour the delicious dishes of Garda Lake, that will satisfy even the most hard to please palates.
Briefly
Length of the itinerary: 50 km  |  Duration: 4/5 hr  |  Starting point: Riva del Garda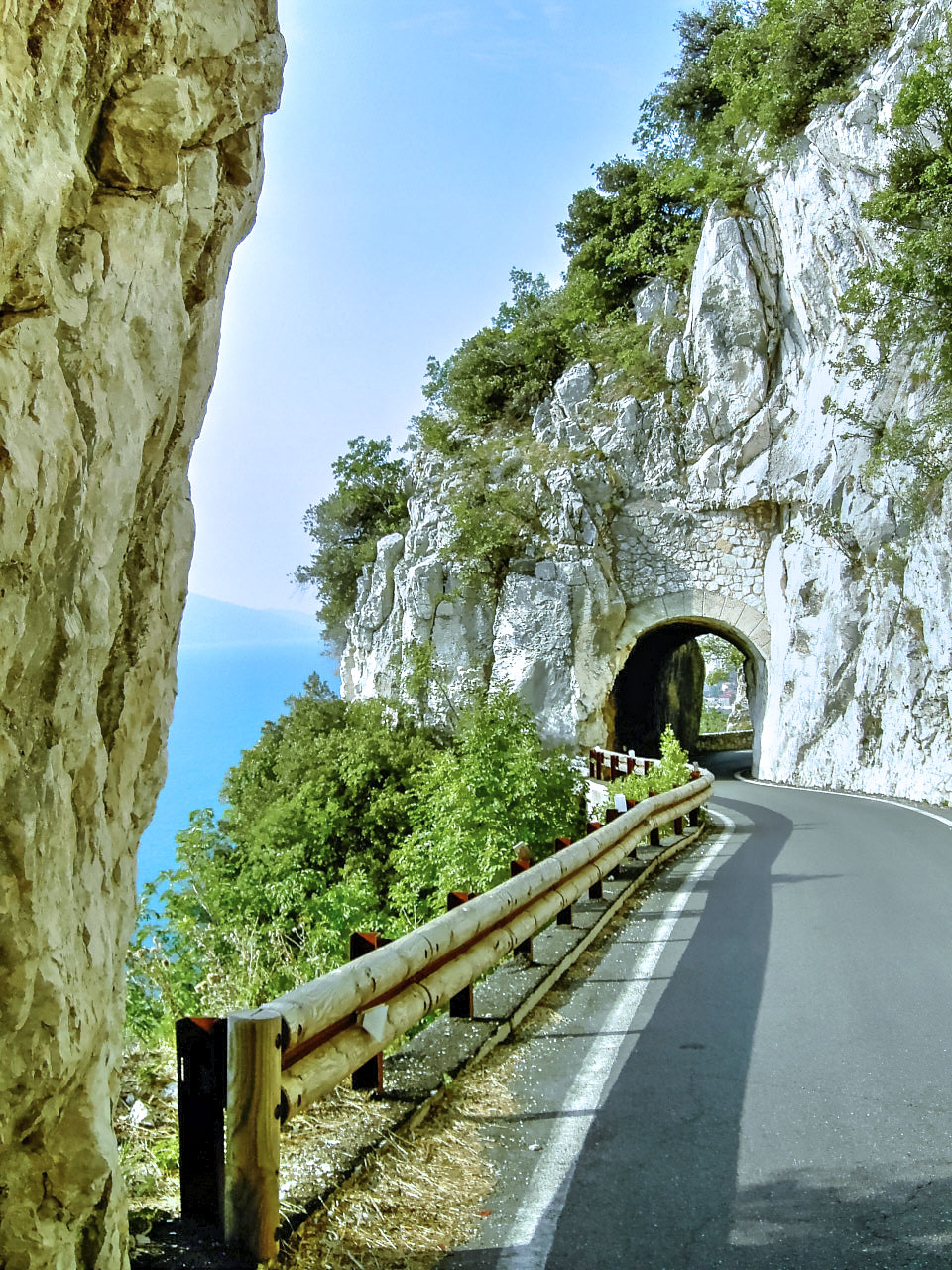 Itinerary and distances km:
Riva del Garda / Limone: 11 km
Limone / Vesio: 7 km
Vesio / Pieve: 6 km
Pieve / Porto di Tremosine: 6 km
Porto di Tremosine / Riva del Garda: 11 km
Must see places:
Limone: ancient village
Pieve di Tremosine: from the square to the Terrazza del brivido" at 400m above the sea level, Forra road.
Included in the price
Rental of Vespa Primavera 125 cc or Vespa 300 cc, (for the whole day (9 a.m./ 7 p.m.)
Fuel

Driver's helmet and under-helmet cap
Necessary Requirements
Min. 18 years old
Valid driving licence (A1 or superior for Vespa Primavera 125 cc and A/A2/B for Vespa 300cc)
Credit card of the main driver (required deposit: €250)
2 - From Garda Lake to Valpolicella by Vespa
Discover Garda Lake, a corner of paradise for the lovers of nature and breathtaking landscapes. An itinerary that reaches its peak in the vineyards of Valpolicella, among antique villages and castles surrounded by nature.
Bardolino, Custoza and Chiaretto: these are only some of our world renowed wines, products of an unique territory. 
Briefly
Length of the itinerary: 105 km  |  Duration: 5/6 hr  |  Starting point: Peschiera del Garda
Itinerary and distances km:
Peschiera del Garda / Cavaion Veronese: 19 km
Cavaion Veronese / San Pietro in Cariano : 16 km
San Pietro in Cariano / Marano di Valpolicella: 8 km
Marano di Valpolicella / Verona: 18 km
Verona / Borghetto: 30 km
Borghetto / Peschiera del Garda: 14 km
Included in the price
Rental of Vespa Primavera 125 cc or Vespa 300 cc, (for the whole day (9 a.m./ 7 p.m.)
Fuel
Driver's helmet and under-helmet cap
Necessary Requirements
Min. 18 years old
Valid driving licence (A1 or superior for Vespa Primavera 125 cc and A/A2/B for Vespa 300cc)
Credit card of the main driver (required deposit: €250)